Warning: Spoilers!
I… um…
… huh.
Carry On is a book that, honestly, I was baffled over. Why does it exist? Who asked for it? Lots of people, apparently. For those that aren't familiar with Rainbow Rowell, she writes young adult novels about nerdy, particularly flawed characters and their romances. Carry On is an expansion on an idea from one of her previous books, Fangirl. In Fangirl, the main character Cath writes fanfiction about Simon Snow, which is more or less the Harry Potter equivalent in that novel. We'd see segments of her fanfiction throughout the book, most of which focused on shipping Simon and Baz, the equivalent of Draco Malfoy. Carry On is Rainbow Rowell's own take on writing fanfiction of the world she made up and was briefly explored in Fangirl. And if that sounds like a little much to you, then you're not the only one.
If you read my post about Fangirl, then you might remember that it hit pretty close to home. It came so close to becoming one of my favorite books of all time and spectacularly derailed midway through. But if you haven't read it, I basically loved how accurately Rainbow Rowell portrayed a college experience that I and many others went through. It was refreshing to read something about a college setting for a change, and the fact that Cath took a creative writing course only hit closer to home for me. But halfway through, all of that dropped for a shallow, boring romance that the book mostly focused on for its remainder. It was a couple hundred pages of basically a honeymoon phase of a relationship and, well… if you don't like seeing other people go through it, you certainly won't like reading about it.
So it's not surprising that the parts with Cath's fanfiction of Simon Snow were the absolute least of my concerns. When I found out about Carry On, my main thoughts were, "Really? Of all the things to come out of Fangirl, it was the Harry Potter knockoff fanfiction? Was this what readers took away the most out of Fangirl? Not the confusing as fuck time period that is the transition to college, not discovering what you've always wanted to do may not be what you're capable of, not drowning yourself in a romance to the point where anything else interesting in your life is immediately discarded, but the fucking Harry Potter fanfiction?"
I've mostly enjoyed what I've read by Rainbow Rowell. Some books were definitely better than others, but overall it was a good time. I was going to check out Carry On eventually, despite not having an interest in it at all. Reader reviews are praising the shit out of it, which I was honestly surprised to hear. But now that I've finally read it, did it turn out better than I expected? Does it hold up to the praise, justifying the endless screaming fangirls in love with Simon and Baz's relationship on Goodreads?
Eh. It was okay.
I guess.
There's a couple of things you should know before reading Carry On. First, you don't have to read Fangirl before this. Carry On has literally nothing to do with Fangirl. This story isn't Cath's fanfiction, it's Rainbow Rowell's own take on her own made up characters that weren't explored too deeply to start with. Second, if you aren't familiar with the Harry Potter series, Carry On is probably going to feel like a confusing mess. I feel like too much of Carry On relies on the reader already knowing the world of Harry Potter and being able to see which character from this book is the equivalent of another character from Harry Potter.
That being said, here's what's happening in Carry On.
Simon Snow (Harry Potter) and his best friend Penelope (Hermione) return to their magical school, Watford (Hogwarts) after the summer. It's their last year and they want to enjoy it, but the magical world is on the brink of war between the Mage (Dumbledore), the Insidious Humdrum (Voldemort), and the elitist magical families that want to change the world back to what it was before the Mage took over (like the Malfoys).
To make things more awkward, Simon's arch nemesis and roommate (sitcom, anybody?) hasn't shown up to school. That's Baz (Draco), and he's also a vampire (because I guess Twilight influences will never truly die out). Simon spends too much of his time trying to prove that Baz is a vampire while Baz torments Simon because Harry and Draco hate each other, so why not these two?
And to make things even more awkward, at the end of the previous year Simon caught Baz holding hands with Simon's girlfriend Agatha and hasn't talked to either of them for the whole summer about it.
Baz eventually returns to Watford, acting like he's cool as shit and up to mysterious things, but in reality he was kidnapped by numpties (which I'm just finding out is slang for a stupid person, but I think they were supposed to be some kind of creature in this story) for six weeks. Simon thinks Baz has been up to something sinister, but first he has something important to tell him.
While Baz was away, the ghost of his mother visited their dorm room looking for him. When all she found was Simon, she told him to tell Baz to look for someone named Nicodemus so she can find peace in the afterlife. Baz's mother is a hot button issue for him, so naturally he gets pissy when Simon tells him of her visit.
Baz tells Simon that he's going to help him avenge his mother. Simon naturally thinks this is a plot to kill him, but they make a truce to solve this mystery. Baz wants Penelope in on this too since she's the brains behind their adventures, and the three attempt to solve the mystery.
At some point a dragon arrives at Watford and starts making a scene. Baz tries to fend it off but he doesn't have enough magic. Simon discovers that since he's a magical bomb that can go off at any moment, he can transfer some of his magic to another person by touching them. He does so with Baz and they save the day.
Agatha and Simon break up at some point, and since Simon usually spends Christmas break with her family, he's got nowhere to go (Penelope's family is pretty hesitant about Simon coming around because of his magical outbursts). Baz invites Simon to stay with his family, and although he initially refuses, he eventually goes.
Baz and Simon decide to go looking for answers at some sort of vampire club, where they hope to find Nicodemus. They do, he doesn't give much help, and they leave.
Baz flips his shit in a random forest and seems like he's going to kill himself, but Simon kisses Baz to stop him. Because fanfiction.
And unfortunately, yes, I feel this entire setup is because of fanfiction. To the book's credit, Baz mentions being gay and struggling with his feelings for Simon during several parts of the book (his chapter narrations, anyway; he doesn't actually tell other characters this). But for Simon, this comes out of nowhere. At no part in the story up until now do we get any insight towards Simon's attraction to either other guys or Baz. And love works in different ways for everyone. I get that. But I think from a combination of this entire book seeming like it's a fanfiction of Harry Potter trying to ship Harry and Draco for the sake of shipping and, unfortunately, kind of weak writing on Rainbow Rowell's part, I don't think this is a very good scene. It doesn't make sense and feels incredibly phoned in.
But hey, that's just my dumb opinion. Apparently I'm in the minority for this one.
Anyway, Simon and Baz have a few more fan service moments over the course of the book but keep it a secret. The Mage eventually reveals himself to be the bad guy. Well, a guy whose good ambitions took a turn for the worse, I guess. The Humdrum is revealed to be a part of Simon. Simon gets rid of the Humdrum by pouring all of his magic into him (it makes more sense after actually reading the book). The Mage is killed in some kind of struggle. Simon and Penelope don't return to finish school, but Baz does. Then Simon and Penelope get a place together. Simon and Baz are still dating and… that's it.
Despite how unnecessary Simon and Baz's relationship is, it takes up such a small part of the story that it further adds to my confusion about what so many people are going nuts over. The majority of Carry On is devoted to Simon, Baz, and Penelope's quest to avenge Baz's mother and defeat the Humdrum. Simon and Baz don't start their intimacy with each other until at least two-thirds into the book, and we only get a couple of small scenes of them together sprinkled here and there throughout the rest of it. It's been a year so I don't exactly remember, but weren't the Simon Snow sections in Fangirl mostly about Simon and Baz's budding relationship? If that's what Carry On is supposed to be about, then why is there so little of it?
It's especially strange because Rainbow Rowell is really good at writing about relationships. Like, really good. In all her other books, the characters and relationships all felt real. As much as Fangirl disappointed me in how the relationship worked out, the journey there was still incredibly interesting and showed the confusing side of how people interpret things in different ways when it comes to romance.
Carry On, though — man, it's weak. Simon and Baz aren't particularly interesting. They're really riding on the fact that they're Harry and Draco equivalents. And the characters in Harry Potter weren't exactly strong personality-wise, either. But at least that series had a ton of charm and it was more about the adventure and mystery than it was about character development.
I can give credit to Rainbow Rowell for at least trying to do something different by writing a more fantasy-themed story instead of a realistic one primarily focused on relationships. But the plot was average at best. You can't help but compare it to Harry Potter and the entire time it feels either like Harry Potter fanfiction or something that took an excessive amount of material from Harry Potter. The romance between Simon and Baz is very weak and, quite frankly, unnecessary.
You know what would have been better? If Rainbow Rowell wrote a story about a gay romance in the real world. Have two high schoolers (they can even hate each other!) fall in love and explore their relationship and feelings more deeply. Show the struggles that real gay teens would face. Show how some parents don't approve. Show how far the rest of the world, especially the younger generation, has come by showing their support for the couple. Write a real story about a real relationship. In other words, Rainbow Rowell should have done what she's been doing all along, only with a homosexual couple instead of a heterosexual one. I love how her characters are nerdy, but in my opinion she's much more effective writing about nerdy characters than the things nerdy characters are into.
As much as I've complained, Carry On was still an okay book. It was entertaining enough in its own way, it held an adventurous plot fairly well (even if most of it was too influenced by another series), and while some parts really annoyed me (mostly the weak romance that seemed to exist solely as fanservice and the average writing that seemed a step below Rainbow Rowell's usual caliber), I never really hated any of it. One of the minor characters, Agatha, even became legitimately interesting for me. While she's boring at first, there's an interesting development where she doesn't want to be involved in magic or the dangerous adventures that surround Simon. In a way, it's a kind of funny jab at Harry Potter. It left me thinking, "Yeah, I'm sure one of those nameless students is pretty tired of the shitstorm that follows Harry wherever he goes. I'll bet there are some students that would like a more normal life." It even ends with her running away from the world of magic and living a nice, normal life she's totally content with. And I liked that. It was a nice break from… well, everything else.
But that's all Carry On ended up being for me. Okay. Not good. Not bad. Just okay. I've got a feeling that this book really wasn't meant for me in the first place. But seeing as how much I've generally enjoyed Rainbow Rowell's work, I really can't help but feel disappointed. And it's not like I was expecting anything from this to start with. But even the writing wasn't nearly as good as her other books, and it's that that I'm the most surprised by.
If you haven't read anything by Rainbow Rowell, I'd strongly recommend starting anywhere else. Carry On, in my dumb, obviously minority opinion, is her weakest book. The idea of parodying Harry Potter worked in Fangirl because it was in short segments throughout the book, wasn't the main focus, and reinforced the ideas of a fandom. But as an entire book, it just feels like a joke that's gone on for far too long. I'm desperately hoping her next book will go back to the realistic portrayal of relationships she's successfully written about. And I'm hoping she'll make it about a gay couple that's more developed than Simon and Baz.
Oh well. At least there wasn't a Ron Weasley in Carry On.
Thanks for reading, and I hope you're all having a great week! 🙂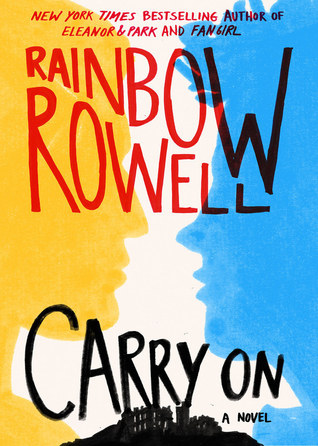 Info for my edition of Carry On:
Published 2015 by Saint Martin's Griffin
Hardcover, 522 pages
ISBN 978-1-250-04955-1